scissor wheelchair lifts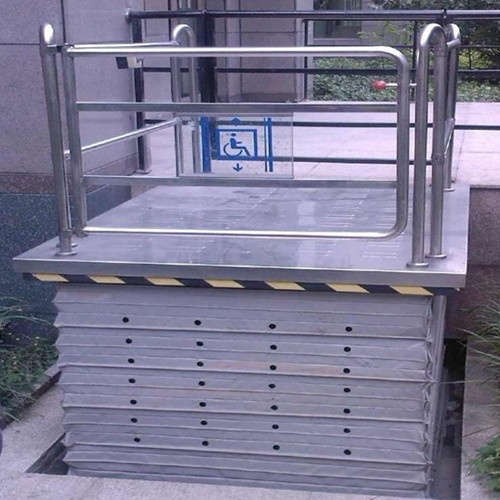 Product introduction:
The disabled scissor lift is a device to transport wheelchair or people from one floor to another.
It allows user to move freely within a multi-floored building.It is widely used for home, indoor and outdoor of public building.

Customized product can be done as your request:
Lift height: 1m--10m
Load capacity: 300kg
Material: Stainless steel or aluminum alloy with Powder coating.
Product advantage:
1. It can be installed on the ground or in a pit without civil engineering supporting pit.
2. Scissor lift structure is more steady, safety, high-guide appearance, convenient to maintenance.
It has blind way, stainless surface and guardrails.
3. The lift has safety protection facilities such as foldable shields and safety edges.
4. The lift is easy to operate and adopts electric powered and control system to improved the safety of people and machine.
5. Emergency descending can protect people when there is no power or malfunctions. We can descend the device manually.
6. The durable and simple-operate lift is widely used in both indoor and outdoor application requiring vertical transport.
7. All safe device to protect peoplt in the platform.

Application:
It is widely used in residential areas, hotels, administrative offices buildings, subways, banks,stadiums, hospitals and other public places.For the aged and disabled people.

Before quote the exact prices,we need to know the detailed specifications:
Travel height (M):
Platform dimension (L x W):
Load capacity (KGS):